A Message from Dr. Kelvin Sharp
Issued: March 18, 2020 1:00pm
---
Resources for Help with Online Classes
Issued March 20 - 9:30am
Dear NMJC Students,
On behalf of NMJC, we want to wish you a healthy, restful Spring Break. Please stay safe, avoid travel, and wash your hands! Our main priority at NMJC is ensuring that you are safe and that you can be successful in your studies. We are aware many classes have recently shifted to an online learning format to help prevent the spread of the coronavirus, and we understand that this may be disruptive. With this in mind, we would like you to be aware of some resources available to you for when you return to classes online in early April:
Circumstances surrounding classes at NMJC are subject to change, so keep signing in to Canvas and to your email through the T-Bird Web Portal for updates (http://sso.nmjc.edu/). We will be reaching out to you to offer information and assistance via Canvas, email, and/or phone in the coming weeks. Academic support is available for you when you return to your classes in April in the Pannell Library:
EMAIL: successcenter@nmjc.edu
PHONE: 575-492-2622
LOCATION: Pannell Library, NMJC Campus (Hobbs, NM)
Tutors available for one-to-one tutoring in-person or online (in addition to Brainfuse) Mon-Thurs 8 am to 8 pm, Fri 8 am to 5 pm.
If you have questions about Canvas, please contact the Canvas HelpDesk at 575-492-2199.
Sincerely,
Aaron Prebenda
Director, Academic Programs
---
Online-Only Classes
Issued March 18 - 4:30pm
Per the Governor's press conference, and the coming Executive Order that we should not gather in groups of 10 or more, academic classes will be taught online, starting Thursday, March 19. We will maintain some in-person classes, but these are on a case-by-case basis, focused mainly in healthcare and first responders).
Professors will communicate with students via Canvas.
---
NMJC Travel Form
Issued: March 17, 2020 - 1:30pm
Staff and Students:
NMJC is strongly encouraging you to avoid travel, including spring break, to areas with active community transmission of COVID-19. We are, therefore, asking all of you to please fill out the NMJC Travel form, as a protection for all of us as you return to Hobbs. We can then provide you advice and guidance regarding any COVID-19 exposure. Please see the information below, and fill out the form.
The form must be filled out if you have traveled in the last 7 days, or plan to travel in the near future.
NMJC Travel Recommendations for Employees
Recomendaciones de Viaje-Empleados
NMJC Travel Recommendations for Students
Recomendaciones de Viaje-Estudiantes
---
Graduations Cancelled for Spring 2020
Issued: March 16, 2020 - 11:55am
Staff and Students:
Every day for over a week, our Executive Committee has met to make difficult decisions about what is best for our students and staff.
We have made the decision to cancel graduation ceremonies this year. This decision includes not only the full college graduation, but the smaller related events such as Cosmo pinning, Nurse graduation, Law Enforcement, automotive, etc. All graduation related events are cancelled this year, as well.
If you are a student who plans to graduate, please apply online.
Once your degree is conferred, you will receive your diploma in the mail.
If you have purchased your cap and gown in the bookstore, you can return it for a refund.
If you have questions, please call our Help Desk at 575-492-2577.

Obviously, this is disappointing for everyone involved. Graduation is a highlight activity for our year, and it is a celebration of student accomplishments. Nevertheless, given the current states of emergency that exist in New Mexico and nationally, this decision is in the best interest of our students, staff, faculty, and members of the public.
We will keep you updated, as we learn anything else.
[NJCAA has cancelled all sports for the spring. See the article here]
---
NMJC Letter to Staff, Faculty & Students
Issued: March 13, 2020 - 5:30pm
To NMJC Students, Staff, and Faculty:
This is a very difficult time, as we evaluate the needs of our students and staff with the need to reduce the exposure to the Coronavirus. After speaking with our local health providers, watching the Governor's press conference, and meeting with community leaders, the Vice-Presidents and I have agreed to the following steps:
CLASSES
New Mexico Junior College will be open the week of March 16, 2020, with all classes being held as usual.
The campus will be closed for an extended spring break March 23 – 31. Operations will resume when staff returns on April 1.
Students will NOT be returning to campus after spring break. Classes will be taught online, which allows our students to complete their studies, and complies with the Governor's directives over concerns of travel and the spread of the Coronavirus.
Online classes will remain through the end of the semester.
A couple of technical programs will continue normal activity such as the Law Enforcement Academy.

CAMPUS STAFF AND OPERATIONS
NMJC staff and faculty will return to campus after spring break to continue business as usual, including advising, registration, tutoring, and the basic daily operations of the campus.
The library will be open for students who want to use computers and/or other benefits that the library offers.
The Testing Center will remain open for regular hours. Appointments should be made, as they are reducing the number of students that are allowed in the center at one time.
Dorms and food service will be open to those students and student-athletes who cannot leave campus. Student services will work individually with these students.
Sodexo has instituted more rigorous cleaning and sanitizing of the cafeteria and the snack bar
NJCAA has suspended all competition through April 3rd, and will assess the situation at that time. Our coaches will be talking with Deron Clark regarding practice sessions.
Student workers will continue their work in their respective departments
Our professional cleaning staff are focused on public, high-traffic areas, and are bleach-cleaning these areas nightly. The day-crew is also sanitizing high public areas.
Training and Outreach will continue their training classes at this time.
The Western Heritage Museum and Lea County Cowboy Hall of Fame will remain open although they will be closed for spring break.

TRAVEL
The Governor has declared that there will be no state-sponsored traveling for employees. If you have registered for a conference that takes place in the next few weeks, it will probably be cancelled; if it is not, please talk with your Vice-President.
If you are personally traveling over the spring break, or at another time in the next few weeks, please be safe and cognizant about large groups and possible exposure.

PREVENTIVE MEASURES
If you are sick, STAY HOME. We cannot emphasize this enough. Let your supervisor know the status of your illness.
If you are starting to feel sick, please go home.
There are hand-sanitizers in each building, mostly at the entrances. Please alert Charley Carroll if they run low.
As you have all heard, wash your hands with soap and water for at least 20 seconds. This seems to be the best deterrent to the spread of the virus.
Practice good cough and sneeze etiquette.
Don't touch your face (this is hard to do).
Avoid crowds.
Visit the CDC website for additional guidance

As of now, there are no reported Coronavirus cases in or near Lea County. We will keep you updated of new developments through email, the website, and social media.
Thank you.
Kelvin Sharp
---
New Mexico Junior College Responds to the Coronavirus
Issued: March 13, 2020 - 5:00pm
Beginning Friday, March 20, 2020, all academic classes at New Mexico Junior College will be delivered online to students. NMJC will extend spring break with campus closed from March 23 – 31, following which students will not return to campus. NMJC staff will return to work on Wednesday, April 1st.
Dr. Kelvin Sharp, president of New Mexico Junior College said, "We have two priorities. Our top priority at this time is the health and safety of our students, faculty, and staff. At the same time, we must remain focused on the success of our students and give them a way they can safely and successfully complete their studies this semester."
"By moving our academic classes online," Sharp continued, "we can allow over 2,000 students to complete their classes from home or other locations away from large crowds of people. As our campus remains open, our staff can operate in a safer environment also away from large groups of people. These actions are in line with Governor Lujan Grisham's directions for increased public safety."
Students will report for classes as usual on Monday, March 16, and meet in their classes to receive directions on how to access their new online classes. As soon as they have received their orientation to the new classes, students will be released from campus.
NMJC staff and faculty will return to campus after the extended spring break to continue regular campus operations, including advising, registration, tutoring, and the basic daily operations of the campus. Individual students may access campus services during this time such as computers, library support, and tutoring services.
Athletic activities are suspended until April 3rd by the NJCAA (National Junior College Athletics Association). Many student athletes and others will remain in campus housing during this time even as they take their classes online.
NMJC academic staff are working closely with area high schools to coordinate dual credit classes, as well as supporting preparations for the high schools to re-open.
Sharp concluded, "I am very proud of our faculty and staff as they work together to keep our students safe and complete their classes. We will work together and with our community partners, to get through these challenging times."
---
NMJC Classes Will Continue
Issued: March 13, 2020 - 8:40am
At this time, New Mexico Junior College is open for classes. The Governor's closing of public schools applies only to K-12, not to higher education.
Our plan is to continue meeting for classes next week before spring break, unless we hear different from the Governor. Dr. Sharp and the vice presidents have been meeting daily to assess and be sure students are taken care of, and that their concerns are addressed.
We will have an updated statement about any changes this afternoon. We will also post any changes to our social media sites.
---
Event Cancellations
March 12, 2020
Due to the concerns of COVID-19, NMJC is being cautious about group gatherings. We will update you with any new information as it is changing daily. Here are the cancellations, related to NMJC:
CANCELLED:
Tonight (March 12)– Census & the Arts at the Western Heritage Museum
Friday March 13 - Thunderbirds baseball vs Western Texas (due to weather)
Saturday March 14– Thunderbird Golf Tournament at Rockwinds
Pie Day at Lea County Event Center
Sunday March 15– NMJC Community Band Concert in Watson Hall
March 17-21– NJCAA National Basketball Tournament (postponed until April 21)
---
Pi Day Event Cancelled
Issued: March 12, 2020
New Mexico Junior College has announced that the annual Pi Day event scheduled for Saturday, March 14, 2020 has been cancelled.
Dr. Kelvin Sharp, president of New Mexico Junior College said, "This morning Governor Lujan-Grisham declared a State of Emergency in response to the outbreak of the coronavirus in New Mexico. As part of her declaration, she is cancelling all large-scale state events, and has asked private organizations to do the same." Sharp continued, "The Pi Day event is a great activity for students and parents in Lea County but we believe that now is not the time to hold an activity that will bring over 5,000 people into the Lea County Event Center."
Pi Day is an annual event hosted by NMJC to introduce young students and their families to mathematics- related activities and games. This popular event has grown in size over the past six years, and has become one of the premier events for youngsters in the area.
"I regret this decision but we must be extremely cautious for our students, their families, and our college staff," Sharp said.
NMJC will continue to hold classes, and will make every effort to complete the current academic year. However, Dr. Sharp has stated that the administration will be monitoring the situation daily, and will be prepared to scale back additional activities if necessary.
---
Statement from Dr. Kelvin Sharp
Issued: March 11, 2020
At this time, NMJC has no plans to curtail classes or close the campus. We continue to monitor developments, as more details become available regarding the Coronavirus (COVID-19). We are meeting regularly to gather information and develop contingency plans in the event that we need to alter our operations. If circumstances change, the college is prepared to act quickly to make changes to protect our students and staff.
Let me be clear, NMJC will take whatever actions are necessary to protect our students and our staff from exposure to medical risks associated with the Coronavirus. Our decisions will be based on the best information available from medical and emergency management professionals as well as after consultation with our educational partners in Lea County.
We have spoken with our colleagues at University of the Southwest, and we understand the difficult decision they made on behalf of their institution. At the same time, we recognize that the circumstances and issues facing USW are different from the challenges confronting NMJC. Any decisions we make regarding changes in classes or curtailing operations must be made in close cooperation with our public-school partners. An independent decision on the part of NMJC could risk the ability of JC students and many high school seniors to graduate on time in May.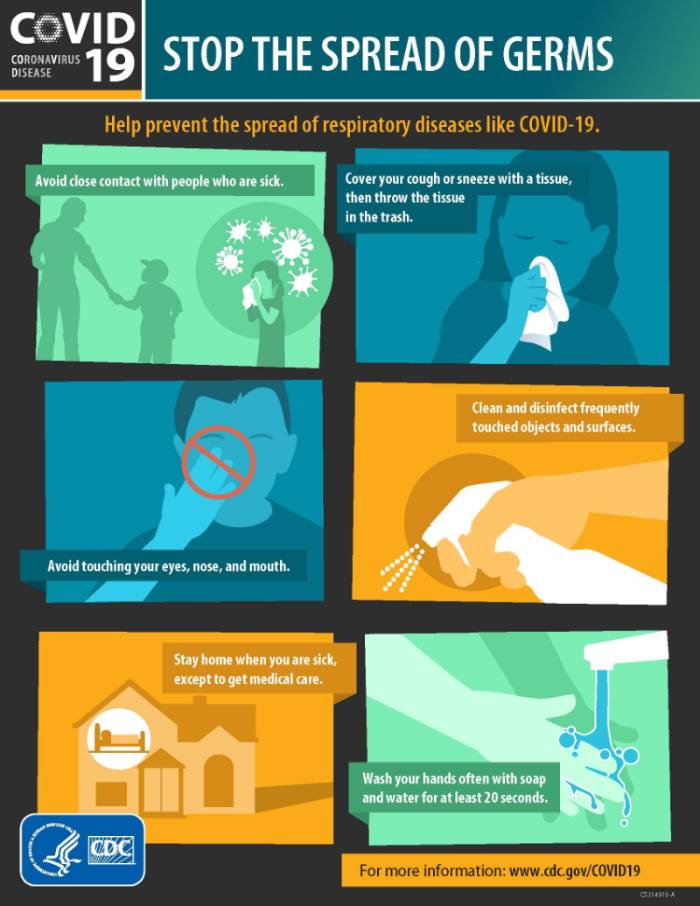 Resources for Students
Preventive Measures from CDC
Avoid close contact with people who are sick
If you are sick, STAY HOME
Wash your hands often with soap & water for at least 20 seconds
If soap & water are not available, use a hand sanitizer
Cough and sneeze into your sleeve or elbow - not your hands
To the extent possible, avoid touching high-touch surfaces in public places
Avoid touching your face, nose, eyes, etc.
Clean & disinfect your home to remove germs: clean frequently touched surfaces
Avoid all non-essential travel including plane trips and cruise ships
Fist-bump instead of shaking hands