International STudents
New Mexico Junior College welcomes your application as an international student, our staff will make every effort to assist you. Our admission requirements conform to the regulations of the United States government for issuing F-1 visas.
Prospective students who wish to receive an F-1 visa must complete the International Student Application and submit the required documents to international@nmjc.edu.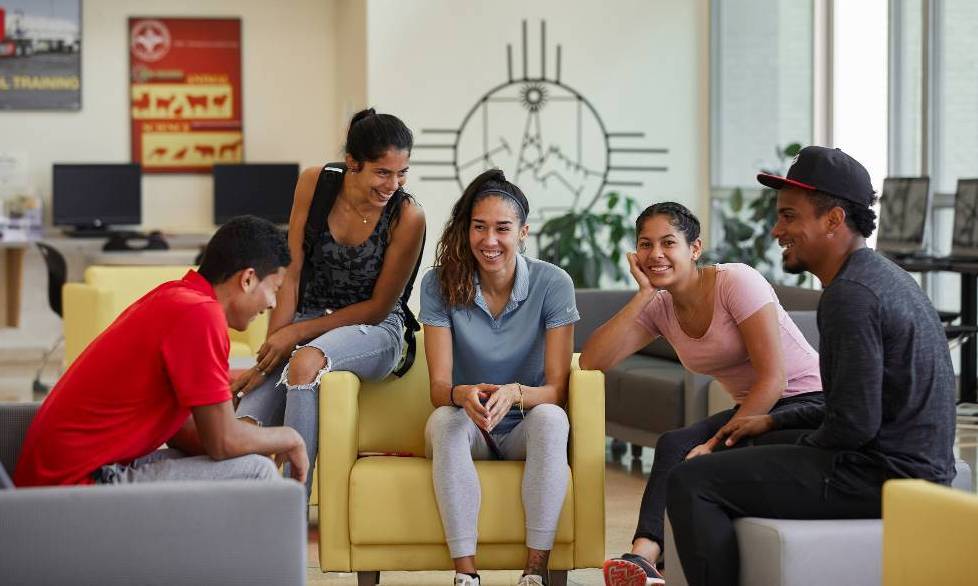 Application Deadlines for International Students:
Fall Semester: April 1, semester begins in August
Spring Semester: September 1, semester begins in January
Mail the following items to us to complete your application:
1. English Proficiency
If you are from a country in which English is not the official language, proof of proficiency in the English language is required. The following may be used as proof of proficiency:
Completion of four years of US high school with a 2.0 GPA or better
Completion of high school in English-Speaking Canada, the United Kingdom, South Africa, Australia, New Zealand or the United States.
ACT English score of 19 or better (test not REQUIRED for admission)
SAT Verbal score of 480 or better (Prior to March 2016 exam) or Read/Write score of 500 or better (post-March 2016 exam) (SAT exam is not REQUIRED for admission.)
1 year of full-time study (minimum 24 credit hours) at a regionally-accredited US college or university with a 3.0 GPA or higher
Completion of one semester of freshman English composition with a GPA of 2.0 or higher at a regionally-accredited U.S. college or university.

Bachelor's degree from a regionally-accredited U.S. college or university or a recognized institution in English-Speaking Canada, the United Kingdom, South Africa, Australia, or New Zealand.

Official score on the International version of the Test of English as a Foreign Language (TOEFL*) of at least 500 (paper-based), or 173 (computerized), or 72 (Internet) with a minimum score of 18 on each section. (scores valid for 2 years).

Official score on the International English Language Testing System (IELTS) of 6.0 or higher (scores valid for 2 years).
*To receive information about the TOEFL, call 609-771-7100 or write: Educational Testing Services, P. O. Box 6151, Princeton, NJ 08541-6151 USA.
2. Academic Records
Students must submit evidence of graduation from an acceptable secondary school and must be eligible for admission to a recognized university in their home country.
Notarized, faxed copies or photocopies of these documents are
not acceptable
. Certified diplomas/certificates must contain the original signature(s), stamp(s) or seal(s) of the issuing institution's designated official or designated government department. If the diploma/certificate is not in English, you will need to have the certified document evaluated.
New Mexico Junior College also requires official university transcripts. US university/college transcripts need to be requested at that university/college. If you attended a foreign university you will need your transcripts evaluated.
SpanTran is our recommended international transcript evaluation service. They have a custom application for New Mexico Junior College that will make sure you select the right kind of evaluation at a discounted rate. You can access the application here:
SpanTran Application - New Mexico Junior College
. You are welcome to use other agencies,
such as the World Education Service (www.wes.org) or Educational Credential Evaluators (www.ece.org).
3. Financial Documents
Proof of financial ability to remain at New Mexico Junior College must be submitted prior to issuance of an I-20. Complete and return the NMJC Certificate of Financial Responsibility with required supporting documentation. The applicant must provide proof of adequate financial support for at least one full year of study at NMJC (minimum of $15,000.)
Students who are receiving scholarships, including athletic scholarships, must note that information.
4. Health / Shot Record
Students must have a current shot record showing proof of required immunizations, including immunizations against diphtheria and tetanus within the last ten (10) years, a negative result on a tuberculosis test, and evidence of good physical and mental health are required.
5. Photocopy of student's passport
Once all requirements for admission have been satisfied, an I-20 will be issued to the eligible student.
General Information & Policies affecting I-20 VISA holders:
Students must maintain a minimum of 12 credit hours during the fall and spring semesters. Only one (3 hour) Internet or distance education course will count towards full-time enrollment requirements.
The student is required to inform the Assistant Registrar of the following changes immediately:
If the student changes address
If the student legally changes their name
If the student changes their major
If the student enrolls in another institution
If the student intends to transfer.
International students may work on-campus, if positions are available. International students may not work off-campus unless the student receives an Employment Authorization Document from U.S. Immigration and Customs Enforcement (ICE). Government regulations require international students to certify that they have finances deemed sufficient by the College while pursuing their degree without employment. Thus, international students should not expect to support themselves through employment while attending NMJC.
Transfers from U.S. Institutions: If currently "in status" under a F Visa, the United States Citizenship and Immigration Services must be notified when an international student transfers from one U.S. institution to another. Once a student is admitted, NMJC will provide a "transfer-in form" that will need to be completed by the previous U.S. institution and submitted to NMJC to release the active Visa information for update.
However, if a student is "out of status" with USCIS, that student should reinstate him/herself with USCIS prior to enrolling at NMJC. Questions regarding a student's immediate immigration status must be directed to the Assistant Registrar. It is the student's responsibility to obtain the correct visa and to maintain the appropriate immigration status while in the United States.