Entertainment and Music Technology
Entertainment & Music Technology
HOME OF THE "FEARLESS" TOURING ENSEMBLE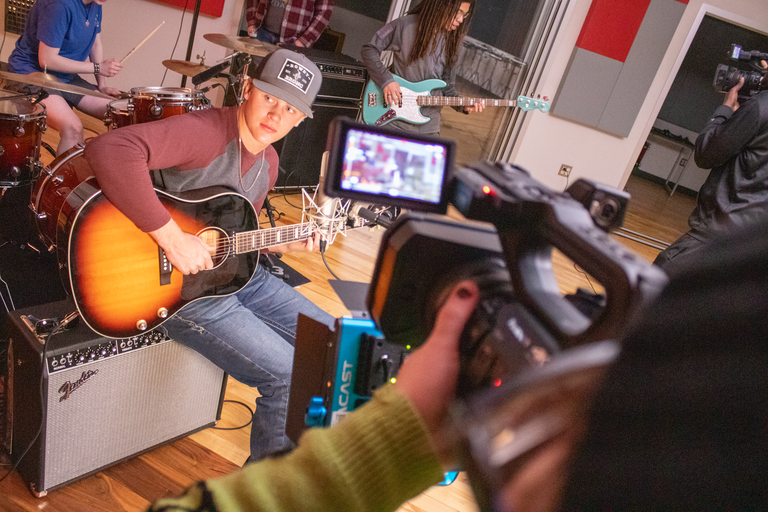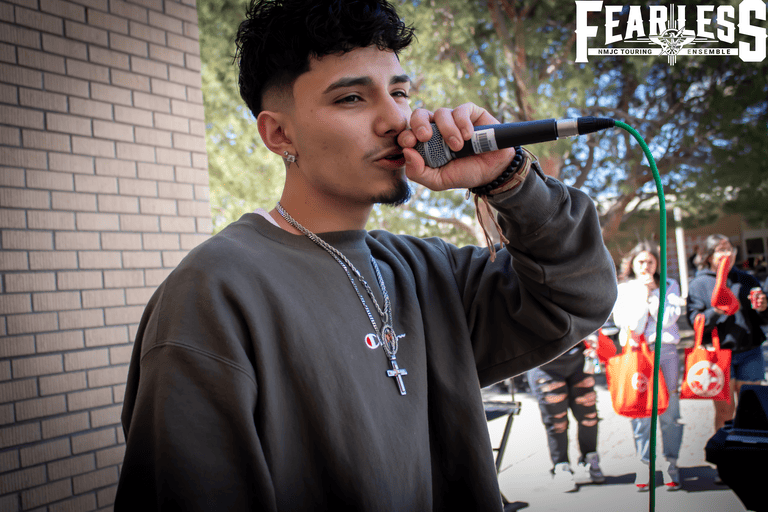 Become a "Swiss Army Knife" in the Entertainment Industry!
The Entertainment and Music Technology program at New Mexico Junior College prepares students for a multifaceted career in the Entertainment and Music industry as technology specialists with hands-on hours, giving you viable experience in your chosen field of work. This two-year program is designed to provide students with comprehensive academic training and practical, real-world experience in various fields including:
Live Sound Production
Recording Engineering
Lighting Production
Video Production
Basic Entertainment Business Law (Music & Video Copyright Protection)
Multimedia Production Applications
Computer Midi Technology
Live Band Ensemble (Entertainment Production)
Classes are held in the new Bob & Bonnie Moran Entertainment Center
The T-Bird Recording Studio:
The T-Bird Recording Studio features a state-of-the-art SSL Duality Recording Console. SSL is known world-wide as a maker of fine mixing boards. From the huge drum sound of the 80's, begun by Phil Collins hit song "Something in the Air Tonight" to the latest recordings by artists from Nashville to L. A., SSL offers world-class technology. To compliment the console, a selection of industry-standard microphones, preamps, and equalizers allow students to replicate the sounds and effects heard on hit records from the 60's to today. The recording studio and control room have been designed, not just for its beauty and utility, but planned by acoustic engineers to be the perfect space for audio recording, a controlled environment to get the most out of any performance. Not only is the recording equipment and rooms top notch for any engineer, the in-house instruments range from various top name brands such as Paul Reed Smith, Steinway, DW (Drum Workshop), Neural DSP, EBS, Marshall, Fender, LR Baggs, Taylor, and many more!
Classrooms/Labs: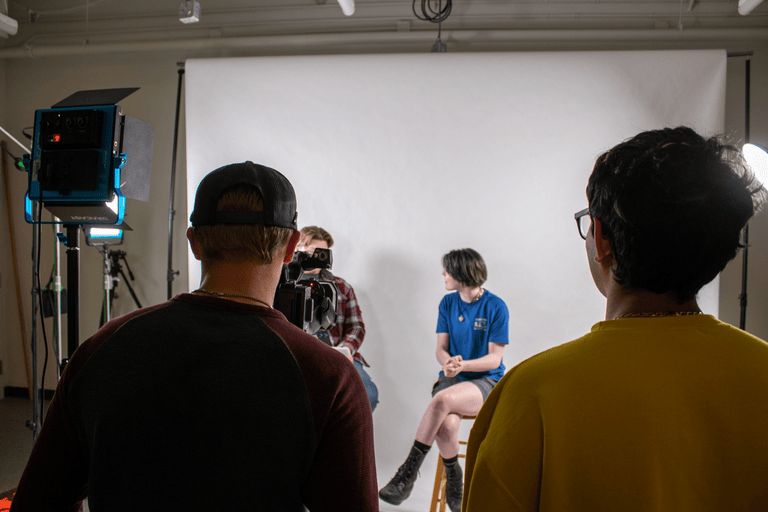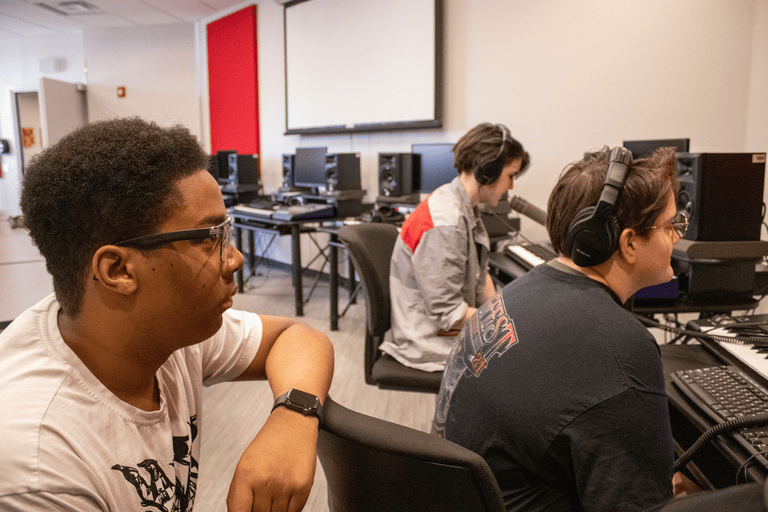 A fully equipped computer lab gives every student the chance, both on their own and under an instructor's supervision, to compose and edit any kind of music: hip-hop, techno, country, pop, rock—the sky's the limit—with software and hardware that is a standard in the music industry. Midi stations allow you to build versatile beats and sounds that compliment your project needs.
The Live Sound lab is fully equipped with the latest gear to teach the art and science of mixing live performances in churches, concert halls, and outdoor concerts. For those with an interest in either the technical side, or musicians who want to learn to record their own demos or albums, NMJC has the equipment to take those first steps into a music career. The Lea County Events Center Areana sits in the backyard of the Bob Moran building, giving a large location for Live Sound classes to take place. Learn to "tune" a room from small to large with our Live Sound classes!
A Video Production studio has been designed with the video cameras, sound boom microphones, and more to create quality videos in a learning environment. In the near future, a multi-versed Sound Stage and Audio for Video (A4V Suite) will be installed for Solo/Duo/Band performances from Local, Regional, and National artists!
FEARLESS Touring Ensemble: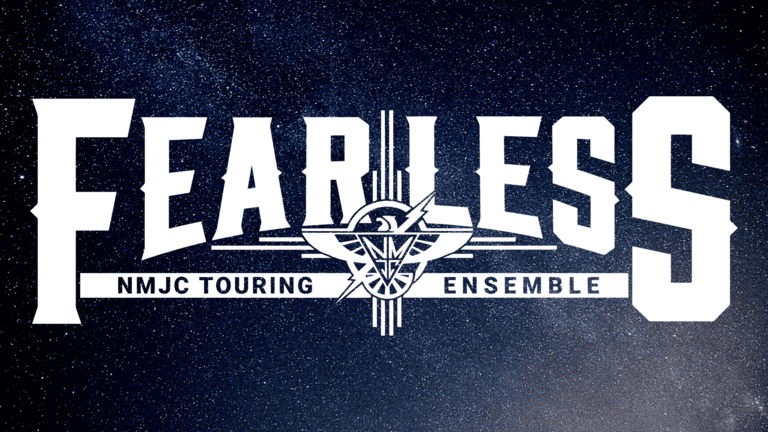 "Fearless" Touring Ensemble is an audition based ensemble produced by Director/Professor Dustin Garrett. This all inclusive ensemble teaches the full package of educational tools for the "touring" musician. With state of the art sound and lighting equipment to enchance the show factor, this ensemble will take you to new heights as a musician and performer. Learn to "advance" show dates, prepare technical Stage Plots and Input Lists, and even something as simple as learning how to connect with your audience when on or offstage.
Director Dustin Garrett is also a professional touring musician, with 28 years of professional experience. Along with directing the Entertainment & Music Technology program, he continues to tour with Grammy Award Winning Country Artist, Rick Trevino!
Internships:
Job opportunities continue to grow in this field, including concert sound production, recording studios, theater production, movie/video production, and much more. As part of your Internship, you will build a rapport through various networking connections, and gain the experience for your Resume to use in the field post-graduation.
If you are new to NMJC, apply for admission at nmjc.edu/admission and choose Entertainment & Music Technology as your major.
If you are a current student, talk with Director/Professor Dustin Garrett about the program, to see if this might interest you as a major.
You can also schedule a tour of our brand new state-of-the-art facilities.
Associate of Applied Science (AAS) - Entertainment and Music Technology
Entertainment and Music Technology AAS - College Catalog

FEATURED VIDEO: Former NMJC Entertainment & Music Tech Student "Dusty Golden".