From International Scholar to Homecoming Queen: Telma Banadzem at NMJC
From International Scholar to Homecoming Queen: Telma Banadzem at NMJC
From International Scholar to Homecoming Queen: Telma Banadzem at NMJC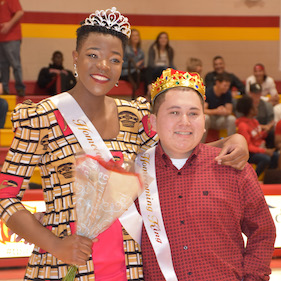 Nursing student Telma Banadzem has high ambitions for her career after graduating in 2020 and is excited about how New Mexico Junior College is preparing her to achieve her goals.
"[NMJC] has great people - great students and great faculty. They really try to get involved with the students and make them as comfortable as possible. It's a great place. The on-campus community is very involved."
Banadzem has eagerly joined NMJC's campus community during her time here. She involved herself in honors societies, volunteer organizations, student activities, and she was also crowned NMJC's 2019 Homecoming Queen. One of the things she appreciates about living on campus is the opportunity to take part in campus activities. "You get to interact with so many different people, it's pretty cool." Banadzem has also been a student worker for NMJC's housing and human resources departments.
When talking about how NMJC has prepared her for her next steps, Banadzem considers her experience as a Thunderbird. "Not only am I getting a degree, I'm also getting a kind of holistic, real-world experience, too." She specifically highlights the diverse culture that NMJC fosters: "It's one of the things that [the instructors] emphasize to us, that we're going to encounter a lot of diversity in the nursing field, and we're going to have to adapt to that diversity. So, getting exposure to that here, I think, is definitely going to prepare me for my career."
One of the things that helped draw her to NMJC's program reasonable tuition pricing. "The cost of living is very inexpensive [...], NMJC is very affordable compared to other places." Additionally, as a Foundation Scholarship recipient, Banadzem has been able to purchase many of her books, without further cost to herself, adding to NMJC's affordability.
Banadzem graduated high school in 2014 from Cameroon in West Africa. When asked about her experience as an international student, she says "You miss home sometimes, but it's exciting to be somewhere else." She's not the only member of her family to study abroad, either. In fact, it was one of her brothers who convinced her to come to the U.S. for her education. "When I finished high school, [..] I went to college for one year back home." That was when her brother pitched the idea of Banadzem coming to the U.S. for school. "He was really convincing, [...] so, I came here." She adds that her decision to pursue nursing really solidified while she was taking the program prerequisites. "The subjects really interested me. I found it was something that I liked, and I wanted to know more. It's actually pretty great."
In the future, Banadzem plans to complete an RN-to-BSN, as well as pursue a Master's degree.
To students who are interested in nursing, Banadzem leaves a few words of encouragement, "You can do it. A lot of people say nursing is hard [...], but I don't like using the word 'hard.' It is demanding. You just have to put your energy and your mind into it, and you have to stay focused and be organized. It's a great opportunity. You can do it."