An Interview with NMJC Student, Ryan Watts
An Interview with NMJC Student, Ryan Watts
An Interview with NMJC Student, Ryan Watts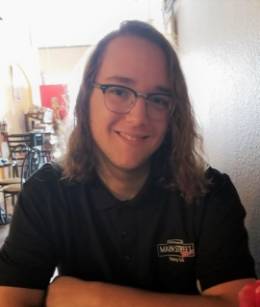 1. Give a brief introduction of yourself:
My name is Ryan Watts, I am majoring in the Entertainment Music Technology program at NMJC. I'm aspiring to be an audio engineer in some capacity, and I'm currently in California in pursuit of that dream.
2. What attracted you to NMJC?
I was born and raised in Hobbs, so I really enjoyed that it was a local college for me to go to. The tuition was much lower than anywhere else surrounding me. If I went to Seminole for their program I would have paid out of state tuition which is kind of insane. […] They had the exact program I was looking to get into. […] I enjoy that it is a smaller college, so I have a more intimate learning experience than I would have had in other places.
3. When will you graduate?
I should graduate in May 2020 after I finish this last (math) class.
4. If you had to choose, what is your best experience at NMJC?
I definitely think the coolest experience was a special topics class I took in the summer of 2019. […] Myself and a bunch of other students in the program were recording an entire EP (extended play) for an artist in the recording studio for a week straight. I really got a lot of cool hands on experience with that--one that I wouldn't have gotten elsewhere. It was a really awesome unique opportunity.
5. Do you consider that your experience at NMJC has enhanced your abilities and qualities on a personal and professional level?
Absolutely, working with the people there and the instructors there, Luis Gomez as well as Jerry Stoddard, has really opened my eyes to a lot of things I would have not even been aware of in this field had I not known them. The opportunities I had to work with the equipment and the things we had set up there was very beneficial.

It's really one of those things in this career path--you need a lot of hands on experience with and I'm very grateful that NMJC had the tools to provide that.
6. Will you continue your education after graduating from NMJC? If yes, where?
Possibly, it's kind of up in the air for me right now. If so, I will probably go up to Humboldt State University. [….] They have a music program in my major. It's more into actual music performance and stuff like that. It could be beneficial, but again it's very up in the air right now.
7. Did you find it easy to make friends on campus at NMJC?
Yeah, so I wasn't the most sociable there, but I think just by nature, the program being so intimate. It was a class of like ten to fifteen people in the whole program. Being around the same people all the time it is just kind of natural to make friends there. I did make a couple good buddies along the way. Especially within the program it was pretty cool, pretty easy.
8. What would you tell a student that is considering NMJC, or your specific program of study, as an option?
I would say absolutely, go for it. It is a small, little junior college, tucked away in New Mexico, but it is still a really good opportunity. They have really awesome people there who are willing to help you. [...] The studio there is top notch and if you're looking to get into it, that is the place you probably want to be all the time. With that I would also say, utilize that studio time as much as you possibly can because it's really awesome stuff to work with and you learn so much just by doing. Having that access is really critical.
9. Is there any advice you wish someone would have given you when beginning your education at NMJC?
Again, I would just say utilize as much time in that recording studio as you can. Having that access is so [...] It's just amazing to have that at your disposal. Work with Luis as much as you can. Get in there as much as you can. Just really spend the time working with the equipment and the people you have at your disposal. You have so much you could learn there that you won't have elsewhere, so I'd say that's more critical than anything else.

BONUS: What are you doing in California?
For the last four months I have been living in the Bay area of San Francisco, and working to make connections. Half of the industry is knowing things, but it's also about making connections. Jerry Stoddard told me on the first day of class, when he was still an instructor there, that there's the people who put out resumes and just sit at home waiting to pick up something. Then there's the people who get out there and chase it. They go to the cities and go to the places where this work is more prevalent, so I jumped on the chance to get out to the Bay area. Through that, I was able to work as a stagehand for a company called PrimeTime Entertainment. Working all kinds of shows in the Bay area. It was really cool to experience. Through my knowledge and knowing what I knew at NMJC I was able to get that opportunity and prove myself. Through my contact at PrimeTime Entertainment, he is in the process of setting up an internship at [...] a major studio--I believe they've worked with Arethra Franklin and all kinds of major acts. It's a legit, high end recording studio. Even knowing someone can get me the opportunity to be an intern there is incredible. I attribute that to learning what I did at the JC.