Joab Gonzales: From the NMJC Thunderbirds to the Cleveland Indians
Joab Gonzales: From the NMJC Thunderbirds to the Cleveland Indians
Joab Gonzales: From the NMJC Thunderbirds to the Cleveland Indians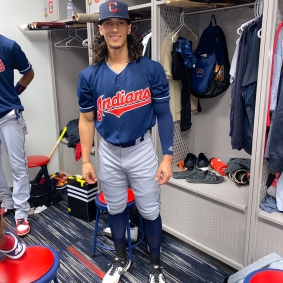 Joab Gonzales attended New Mexico Junior College (NMJC) from 2017-2019.
Originally from Arecibo, Puerto Rico, Joab calls himself the "baby" of his blended family. When asked about his family's influence on his education, Joab recalls that "My mom, dad and older brother always really encouraged me to educate myself, and to work hard to be the best that I can be."
Following their encouraging words, Joab decided to pursue his goals at NMJC. As a student at NMJC, he studied Business; however, his real passion is in baseball.
Joab came to NMJC on a baseball scholarship. He gives credit to his older brother for helping him acquire his scholarship and says, "if it wasn't for that scholarship I wouldn't have been able to attend NMJC and realize my baseball goal."
He speaks highly of his experience at NMJC, as a student and an athlete.
"I'm not sure how it is for all NMJC sports or programs, but I would highly recommend attending NMJC. I had a great time and felt loved, welcomed and helped at all times. [...] NMJC has an outstanding baseball program and facilities that help with exposure to Major League Baseball Scouts, which allowed me (and others) to get the opportunity to play at the next level.
Joab says his best memories from his time at NMJC were the opportunities he had to represent the college at the Junior College Baseball All-Star Game and to play in the Junior College Baseball World Series.
In 2019, Joab was drafted by the Cleveland Indians. He resides in Ohio during the season and returns home to Puerto Rico in his off-season.
When he was drafted, Joab put his educational goals on pause, but he would consider the possibility of more school in the future. "I'm not attending college right now, but NMJC gave me that college foundation and allowed me to develop my English. [It] prepared me for where I am now and for the future. [...] I have two ultimate career goals. First, to have a career as an MLB Player, and then, to own a Real Estate Business--or any good business."
To students who may be considering attending NMJC, whether for sports or purely for academia, Joab advises, "Focus on your goals, and at the same time have some fun. I promise NMJC will be a great experience."
Reflecting back on his time as a NMJC Thunderbird, Joab wound up his interview with a few words of thanks:
"I will always be grateful for the opportunity I was given to play baseball for NMJC, because due to that opportunity, my baseball goal and dream became a reality. I'm now working to get to the ultimate goal, which is playing in the Majors, but without me attending NMJC, this would not have been possible. Thank you to the NMJC Baseball, Athletic Department and academic departments for everything."