Student Safety Protocols for Spring 2021
(Updated January 7, 2021)
The following protocols are for the safety of our students and their families.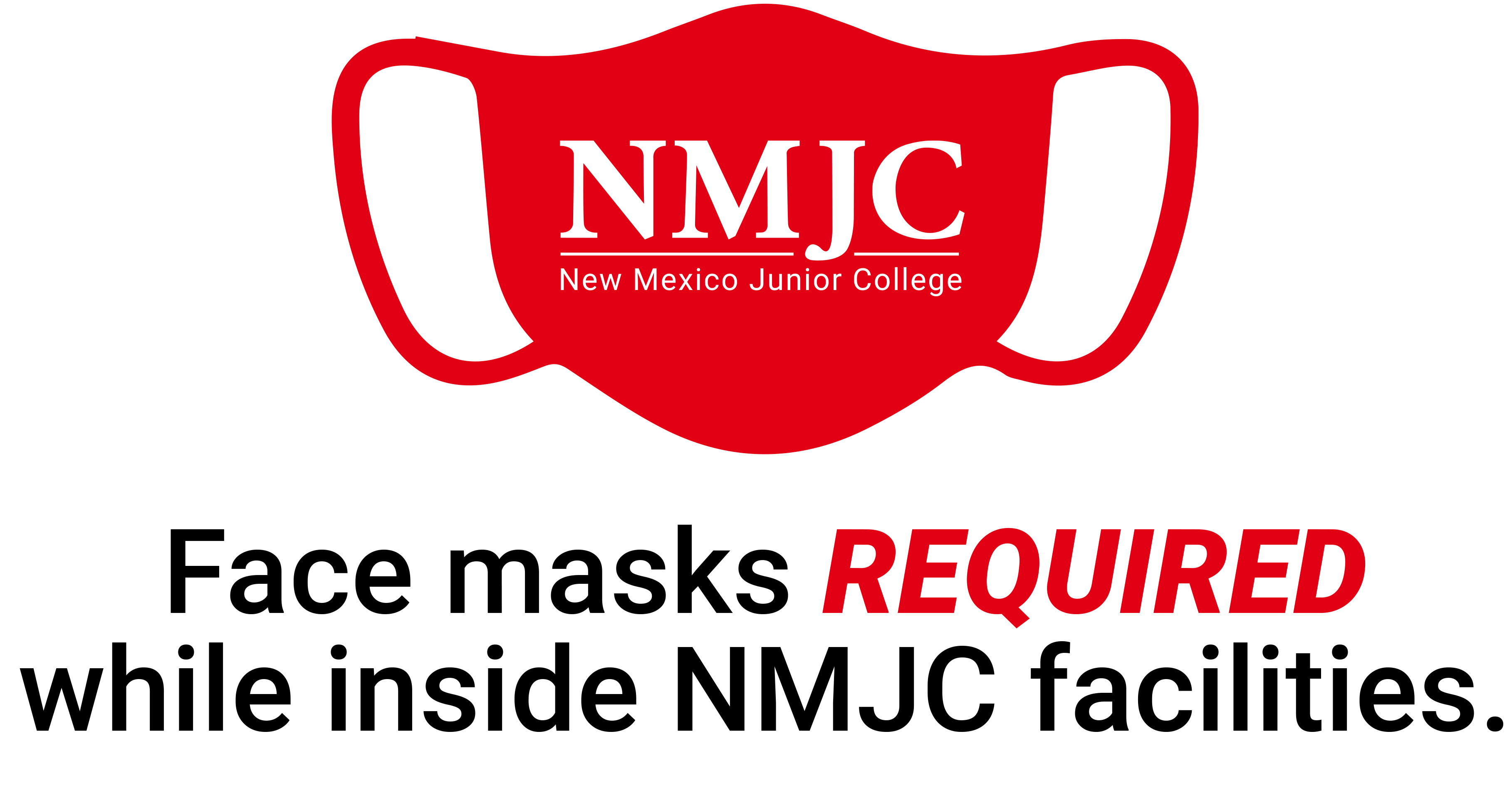 FACE MASKS/FACE COVERINGS
Face masks or multilayer cloth face coverings are required in all buildings on campus. Buildings include but are not limited to:
- Classrooms
- Other teaching spaces
- Ben Alexander Student Center
- Library
- Hallways
- Elevators

- Stairwells
- Restrooms
- Breakrooms
- Foyers
- Event rooms
- Lobbies
Masks/coverings should be worn outdoors where physical distancing of at least 6 feet is not maintained.
When eating, drinking or exercising, you may take off your face mask, but you should maintain physical distance.
Children 2 and under should not wear a mask.
ADA accommodations will be maintained, including for medical reasons.
Instructors/presenters in classrooms may take off masks when physical distance of at least 6 feet is maintained.
Please see the NMJC Policy Regarding Face Coverings here.

Masks are required on campus. Please read about the importance of masks here and the type to wear.
CLASSROOMS
Lecture hall classes may be moved to either Watson Auditorium or the Western Heritage Museum Theater to ensure social distancing.
Classes of 15-20 may be moved to the lecture halls for students to keep apart.
Students will wear face masks in classes – faculty may take off their masks while lecturing, but will remain apart from students.
Classes will be deep cleaned and disinfected daily.
Please avoid gatherings in the hallways.
Hand sanitizer stations have been installed throughout each building
Arrangements have been made to perform weekly disinfecting of classrooms, public areas, and community areas.
With the support of Nor-Lea Hospital, we will be conducting surveillance testing of students and staff in our cohort programs (nursing, law enforcement, cosmetology, etc.), as well as in our dorms and athletic teams. This testing will be voluntary, and at no cost to participants.

FACULTY OFFICE HOURS
Please make an appointment with your professor, if you need to see them before/after class. Most professors may prefer to speak with you by phone, email and zoom.
Please do not congregate outside a professor's office without an appointment.
ADVISEMENT
We encourage remote advisement during this pandemic via phone, email or Zoom. This can be done by making an appointment in advance. Call 575-492-2577, or email: asknmjc@nmjc.edu.
If you prefer an in-person appointment, please make an appointment in advance, and wear your mask.
When it is time for your in-person appointment, we will text you. Otherwise, please remain in your car or outside Ben Alexander Student Center.
No more than

one

additional person to the appointment.
ACADEMIC SUCCESS CENTER
Free tutoring will be available remotely – by zoom, phone or email. Call 575-492-2622 or email successcenter@nmjc.edu.
Appointments must be made in advance for in-person tutoring. Please call 575-492-2622 or email successcenter@nmjc.edu. Facemasks must be worn.
Online tutoring is available through Brainfuse.
Hours are: Monday-Thursday 8am - 8pm; Friday 8am - 5pm; Saturday 10am - 2pm
For more information, see their webpage.
LIBRARY
A limited number of students will be allowed inside the library (depending on the Governor's orders on the number of people allowed inside building areas).

Only students, faculty and staff are allowed at this time.

Visit the front desk to request computer access, and to have the computer sanitized.
You must stay at your assigned computer space. If there are technical issues, or you prefer another seat, please speak with the front desk first.
The reference librarian is available daily by appointmentment between these hours (8am-12pm & 1pm-5pm), to assist with research projects. Email lmuffley@nmjc.edu or call 575-492-2871 for more information.
Online databases, magazines, books and more are available through the website.
Hours are: Monday-Thursday 7:30am - 8pm; Friday 7:30am - 5pm; Saturday 10am - 2pm.
For more information, see their webpage.
BOOKSTORE
Bookstore hours: 8am – 5pm Monday - Thursday, 8am - 4pm Friday.
Bookstore will be limited in the number of people inside the store (depending on the Governor's orders at the time).
Please don't gather at the register – floors are marked for standing in line to make a purchase.
Bookstore staff constantly sanitize the card pin pad and all cooler doors.
Students are encouraged to order their texts online.
STUDENT HOUSING
Students should complete and submit housing forms online prior to move-in.
On-campus housing availability will be limited due to the change to all private rooms for social distancing.
No outside guests will be allowed in student housing.
Restrictions will be placed on the number of students in a room.
Furniture and computer spaces have been rearranged in each room for social distance.
Each room will be single-occupied (max two students will share a bathroom).
Students must wear a facemask in public spaces.
There are isolation rooms for any students who may need to quarantine.
Student-athletes will be separated by team, in case a team member gets sick.
MOVE IN
Housing will open January 2 for international or out-of-state students, to give two-weeks of quarantine.
General students will schedule a time for move-in on the weekend of January 16-18.
Students will remain in their cars and receive a text when it is time.
Parents/friends who are there to help move-in will be restricted to two family members/friends.
STUDENT ACTIVITIES
During our social distancing, we will have virtual activities, with some events where we can be distanced.
Look to the events calendar on the website, or visit the NMJC Facebook / Instagram pages for upcoming events
GENERAL GUIDELINES
STAY HOME WHEN SICK, except to get medical care.
Wash your hands frequently with soap and water.
Use the hand sanitizer frequently, found throughout each building on campus.
Cover your cough or sneeze with a tissue, then throw the tissue in the trash and wash your hands. If no tissue, cough into your elbow.
Handshaking, hugs and fist-bumps are discouraged.
Limit your use of the elevators when possible.
Use outdoor seating areas and social distancing for any small group activities.
Avoid touching any other student's personal belongings, laptops, phones, etc.

These protocols and guidelines are ever changing. Please check back frequently for updates. We will also communicate updates through our social media.