Faculty and Staff Safety on Campus
FACULTY AND STAFF SAFETY ON CAMPUS
(Updated January 7, 2021)

The following protocols are for the safety of our faculty, staff, and their families.
EMPLOYEE CHECK-IN
30 minutes before employees are on campus they must "check-in" using the "check-in" app.
The "check-in" is sent each morning via text and email, and is approved by their supervisor.
As a reminder, if you have any of the symptoms on the list, you must stay home:


- Temperature above 100.4
- Cough
- Headache
- Chills
- Loss of taste or smell
- Shortness of Breath
- Sore throat
- Muscle pain
- Repeated shaking with chills
FACE MASKS/FACE COVERINGS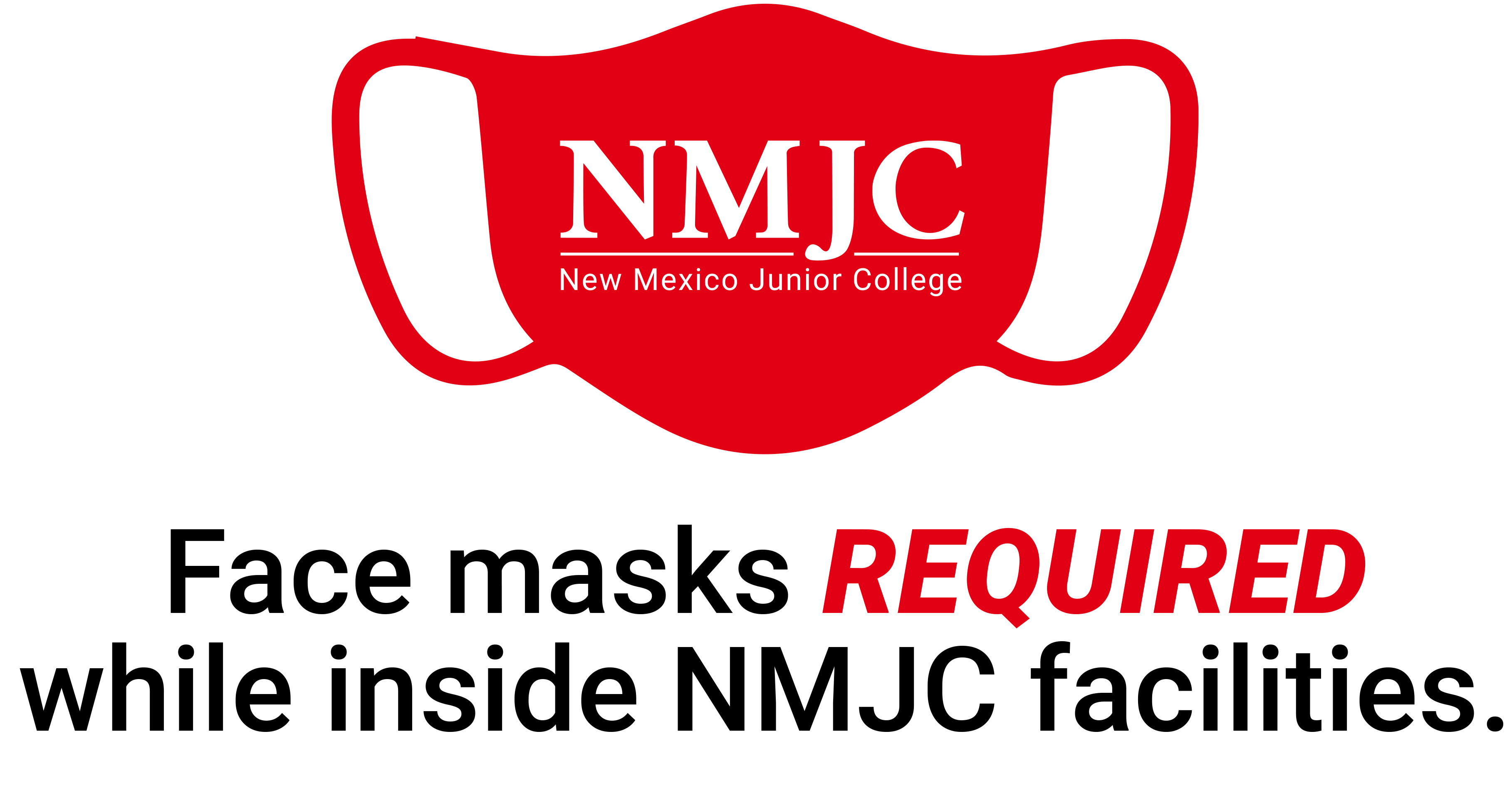 Face masks or multilayer cloth face coverings are required in all buildings on campus. Buildings include but are not limited to:
- Classrooms
- Other teaching spaces
- Ben Alexander Student Center
- Library
- Hallways
- Elevators
- Personal offices when others are present
- Stairwells
- Restrooms
- Breakrooms
- Foyers
- Event rooms
- Lobbies
Instructors/presenters in classrooms and teaching areas may take off masks when physical distance of at least 6 feet is maintained.
Masks/coverings should be worn outdoors where physical distancing of at least 6 feet is

not

maintained.
When eating, drinking or exercising, you may take off your face mask, but you should maintain physical distance.
Children 2 and under should not wear a mask.
ADA accommodations will be maintained, including for medical reasons.
Please see the NMJC Policy Regarding Face Coverings here.
Masks are required on campus. Please read about the importance of masks here and the type to wear.
OFFICE SPACE
Limit in person meetings to business matters, and make such meetings as short as possible.
Make appointments to discuss business matters, dropping in to any office on campus without an appointment is discouraged. This helps prevent inadvertent gatherings of people.
Limit face to face meetings to the extent possible. Use teleconferencing or videoconferencing when possible.
Do not provide access to an employee's office without that employee's permission.
Discontinue use of community coffee pots, tea makers, water coolers and other high touch items.
Do not bring bulk food to campus to share with other employees.
Avoid using other employees' phones, desks, offices, or other work tools and equipment, when possible. Clean and disinfect them before and after use.
Students have been asked to make appointments in advance before seeing faculty, advisors and/or other employees.
GENERAL GUIDELINES
STAY HOME WHEN SICK, except to get medical care.
Wash your hands frequently with soap and water.
Use the hand sanitizer frequently, found throughout each building on campus.
Cover your cough or sneeze with a tissue, then throw the tissue in the trash and wash your hands. If no tissue, cough into your elbow.
Handshaking, hugs and fistbumps are discouraged.
Limit your use of the elevators when possible.
Use outdoor seating areas and social distancing for any small group activities.
Avoid touching any other student's personal belongings, laptops, phones, etc.
These protocols and guidelines are ever changing. Please check back frequently for updates. We will also communicate updates through our social media.