Students at NMJC Camp Build Robots
By Dorothy Fowler - Hobbs News Sun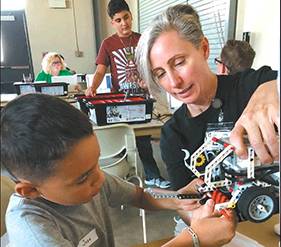 Jose Diaz, 7, works to attach a missing part to a robot he will use to capture debris and crewmen from a spaceship that crashed at area 575, aka Hanna Training and Outreach building on the NMJC campus. Volunteer Lynn Stage assists with placement of the missing part.
Several alien spaceships crashed at area 575, aka the Hanna Training Center and Outreach building on the New Mexico Junior College campus, Monday at about 9 a.m.
Military personnel were immediately dispatched to secure the scene of the crash and to pick up any debris. However, the aliens, eager to protect what was left of their space raft and to rescue their flight crew, threw up a force field rendering them invisible to the military personnel.
Using computer equipment, members of the alien space force worked quickly to program robots with the capability of dragging debris and wounded crew members to safety. Once the rescues are complete, aliens will capture farm animals from a nearby farm to use in experiments.
By Friday, the alien robot operators will have refined their skills and be able to welcome guests to admire their skills.
The alien invasion is part of New Mexico Junior College's annual Youth College. Students who attend Youth College have their choice of morning or afternoon classes, although camp coordinator Vickie Taylor said they encourage younger students to take the morning class and older students to come in the afternoon.
"There is some overlap, though. We have a second-grader in the afternoon class and fourth-graders in both classes," she said.
Robotics camp is the product of a partnership between Texas Tech and NMJC and between an organization that sponsors summer robotic camps and the college. This year's morning class uses equipment on long-term loan from Texas Tech and the afternoon class uses equipment from Summer Robotic Camps.
Taylor, whose full-time job is as district technology support for the Seminole, Texas, school district, has conducted the robotics camp for several years in Seminole and at the college. This year, she is taking the vacation time she's earned in Seminole to conduct the camp in Hobbs.
"I just finished a two-week camp in Seminole and then we came over here," Taylor said. "We're hoping to have another camp here starting July 8, but we have to wait to see what the enrollment is before we'll know."
Camp director Betty Ann Goodger is a special education teacher in San Antonio, Texas. Like Taylor, she has participated in the camp for several years.
"For me, this camp is a chance to refill my cup after teaching a behavior class all year," Goodger said. "These students are eager to learn and are fun."
In addition to Taylor and Goodger, 12 other people volunteer to help campers learn to program and operate the robots, which are assigned a new task for each camp. If the July class has enough enrollment, it will be called the "Pizza Camp," although it is unclear what the title may mean.
The volunteers include parents Verna Wiebe and Lynn Stage, who drive from Seminole each day to be part of the robotics camp.