Ray Birmingham Named 2020 Keeper of the Game Award Winner
By Jason Farmer - Hobbs News Sun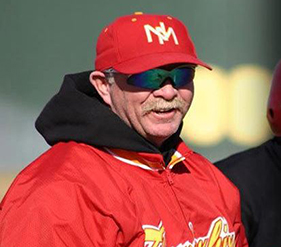 Rack up another award for University of New Mexico baseball coach and Hobbs native Ray Birmingham. The current Lobos head coach and former New Mexico Junior College and University of the Southwest head coach was named the 2020 winner of the Keeper of the Game Award.
Keeper of the Game was founded by James Vilade in 2014. Birmingham and Vilade knew each other back in the 1990s. Birmingham loved the work that the program was doing and how it was helping others, so the Lobos head coach joined on to help the program. According to the Keeper of the Game website, the organization's mission is to provide kids and young adults who have special needs and disabilities unique baseball experiences that foster the growth of those individuals and their love of baseball. Keeper of The Game promotes programs that allow these athletes to play, watch and experience baseball at a very personal level. This is all done with a focus on advancing servant leadership.
Birmingham, who is a Hobbs native, is the ninth winner of the award, which was established in 2012.
"I am humbled by it," Birmingham said Wednesday of the award. "There are so many people who are just as deserving as I am. I am humbled by it. "I hope it inspires other people to have a great life, because I know if you have a great life, you have a servants heart."
Birmingham comes from a family who believes in helping others. Birmingham's father helped to build the first baseball park in town for local Little League teams.
"My parents taught me at a young age," he said. "(My dad) was president of the Kiwanis. He showed me community service. My mom did the same thing. My mom was big on the prenatal care board and taking care of children who were being born into tough situations. I have to give all the credit to my mom and dad."
Having been raised to around supporting one's community, Birmingham himself is big on community service and support.
"I did it at New Mexico Junior College and I did it when I was the coach at (Las Cruces) Mayfield High School," Birmingham said. "Up here (in Albuquerque), I do it with children's cancer and elementary schools. I play Santa, I go to the hospital and see children throughout the year."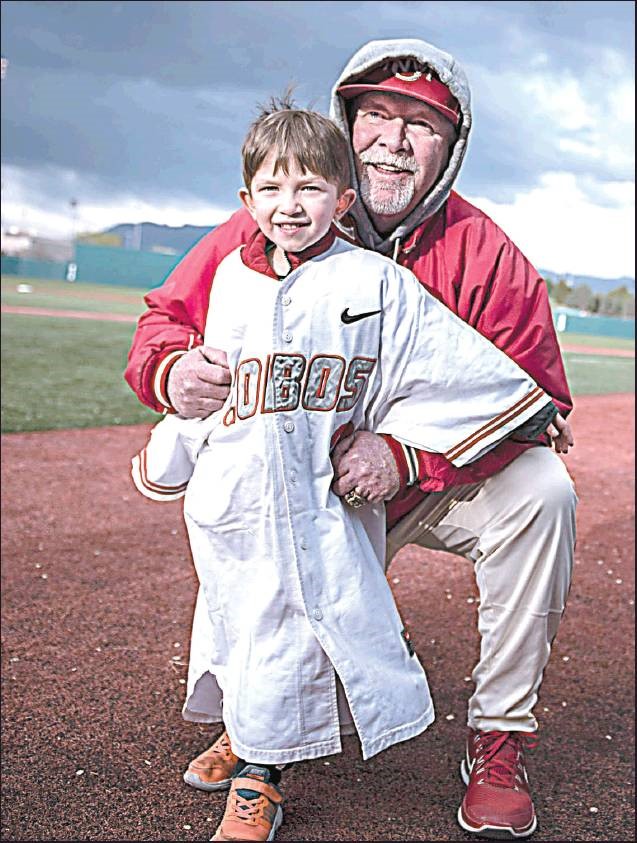 One of the children Birmingham helped, Lio Ortega, hit close to home. Ortega's father Fred is one of Birmingham's former players. Fred played for Birmingham when he was the Thunderbirds' head coach and was on NMJC's 1995 team that produced the program's first Western Junior College Athletic Conference championship.
In 2017, Lio Ortega began battling a brain tumor. He was just three years old. He is just one of the children who has been helped by Birmingham.
"By the time he was four, we let him bat in his first NCAA Division I game," Birmingham said of a Mountain West Conference game in 2018. "We called the NCAA and they said you can do it, and this is how you do it. We were playing Air Force and Lio lived in Colorado Springs and Air Force participated. We started the game with Lio batting as the first batter. He hit the ball back to the pitcher and he ran to first and the pitcher threw the ball down the corner and (Lio) got an inside the park home run.
"It was on national TV," Birmingham continued. "It was on Good Morning America. It was on ESPN. It blew up and that was what we wanted. People began giving donations to help the family."
Birmingham believes health care is so expensive that when someone gets sick or a disease, like Lio, it destroys a family, not only mentally, but also financially.
"Not only do they have a child dying, but they are about to go broke," Birmingham said. "Those two things should not go together. That is one of the reasons I am involved with what I am involved with."
Today Lio is not only still alive, but he is thriving.
"He is totally recovered and a healthy boy," Birmingham said. "He went 3-for-4 in his last game. His hair is all grown out. He is healthy as heck and cancer research saved him."
Birmingham has been doing this kind of work long before getting involved with Keeper of the Game. Back when he was in Hobbs, Birmingham was there to help Josh Puckett.
"Josh Puckett was in a wheel chair and was not mobile at all," Birmingham said. "He was going to Highland Junior High and he wanted to interview me on his sports show that a teacher let him have. He did it on the intercom at like 9 o'clock in the morning in between classes. He called me and asked me if I would be on with him. So I drove over and we did it. I didn't know he was in the situation he was in.
"So, we made him the broadcaster for T-Bird baseball," Birmingham continued. "He taped it and we played it later on the radio station. He became part of the team."
Birmingham believes one should use his or her platform to help people.
"You can help people who feel like they are on an island and they have very difficult circumstances," he said. "I believe if the village gets around them, then they can overcome incredible odds and he did. Josh walks now. He got married and has a child. He is in great shape. I hope we had a little part of that."
Being involved the way he normally is has not been easy this year, thanks to the COVID-19 pandemic. One of Birmingham's events involves the Lobos coach playing Santa Claus for children of cancer at a big Christmas dinner every year. Unfortunately that dinner did not take place. However, he still found a way to get baseball gloves into the hands of young children, albeit through the hands of others in a more protective and safer way.
The award is supposed to be presented to Birmingham during a 2021 Lobos game. Birmingham believes there will be a season, just a condensed one. UNM is slated to play 47 games, all on the weekends, when the upcoming baseball season starts this spring.
"We will go play, come home and get off the plane or bus, take a (COVID-19) test until we get the results, and make adjustments from there," Birmingham said. "Whoever is left will be able to play the next one."