NMJC hosts the World Safety Organization for Campus Tour
By Brittney Garcia
Hobbs, NM – October 4, 2023: New Mexico Junior College (NMJC) was honored to host representatives from the esteemed World Safety Organization (WSO) on Oct.4 for an in-depth campus tour.
Guiding the tour was NMJC's proud alumna, Monica Cervantes, who stands out in her professional journey as a World Safety Organization-certified safety instructor of master level (ISO 17024) and a WSO-certified safety technician. Ms. Cervantes, who recognized for her significant contributions to the "World Safety Journal", shared her invaluable insights and expert perspectives throughout the tour, focusing on both NMJC's commitment to safety and its broader educational offerings.
During the tour, attendees had the opportunity to explore academic facilities, recreational areas, and safety infrastructure put in place by the college. Through Monica's narrative, the WSO visitors got a glimpse of how NMJC integrates safety standards and practices within its academic environment along with Vice President for Operations & Special Projects Charley Carroll, Ph.D.
The tour strengthened the ties between NMJC and WSO, opening doors for potential future collaborations in the field of safety education and training.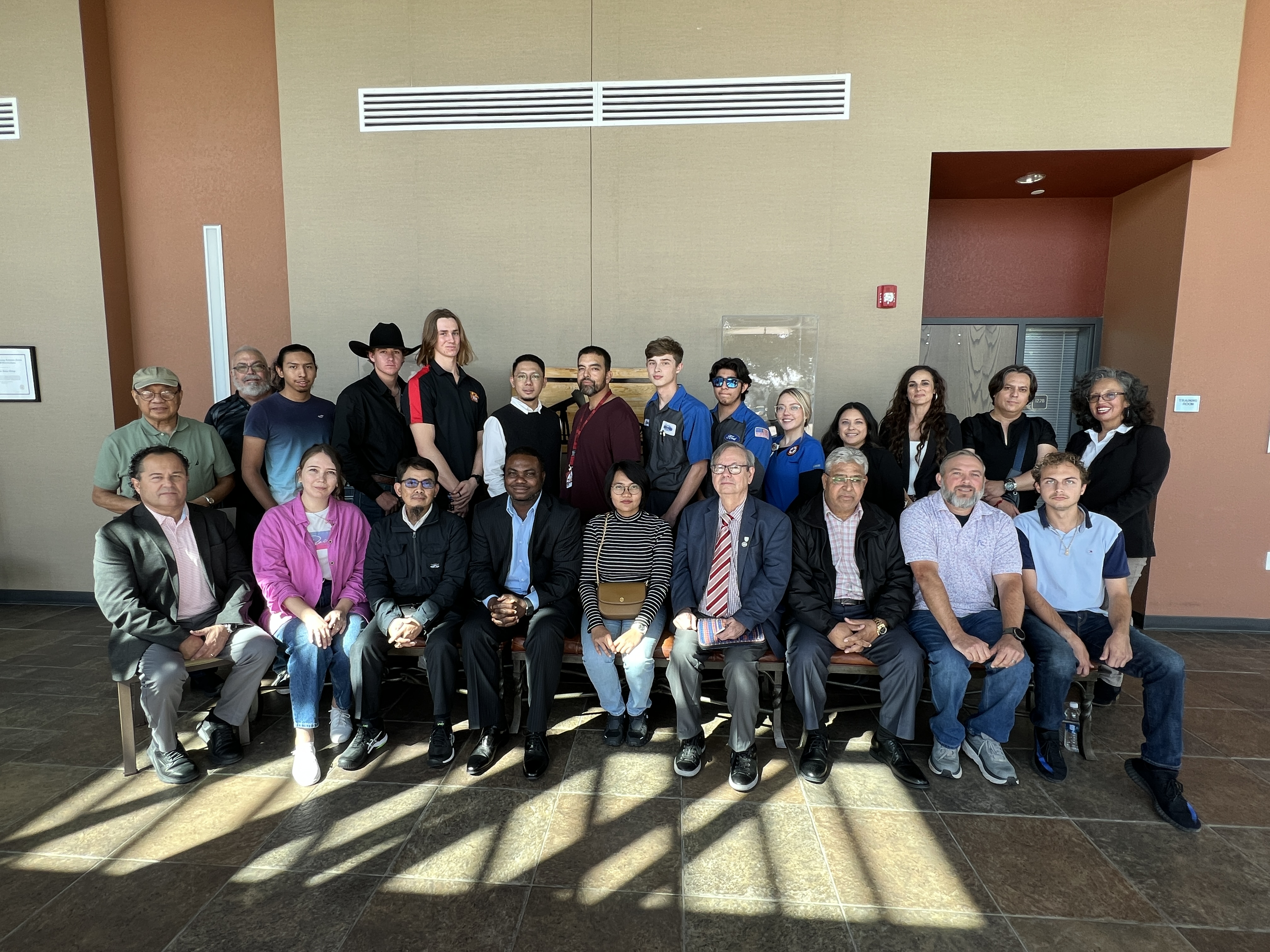 Top Row-Left to Right: Engineering Professor Antonio Maniwang (Philippines), David Malliet (Midland Texas), NMJC Students: Javier Juarez, Caleb Lake. Luca Barei, Dr. TEGLIN SAPTO SUBROTO (Thailand), NMJC Students: Philipp Valdez, Dominique Gonzales, Coleton Kerwin, Elizabeth Berzoza-Campos, Ian Lerma. Megan Vaughn (Carlsbad NM), Engineering Profesor Erick Frias (Mexico), Monica P. Cervantes.
Bottom Row-Left to Right: Perry Ballard CEO WSO (West Virginia), Prof. Albina Mingazova (Russia), Engineering Professor Adri Thanada (Thailand), Bright Bansah (Ghana), Dr. Dini Sabila (Thailand), Bernando Méndez Luego (Mexico), Engineer Muhammad Yousaf (Saudi Arabia), Brian Holloway (Odessa, Texas), Chase Ballard (West Virginia).
New Mexico Junior College (NMJC) is a leading educational institution committed to providing success through learning and high-quality education to its diverse student body. Founded in 1965, NMJC offers a wide range of academic programs, certifications, services to empower students to achieve their educational and career goals.
Contact: Valerie Onsurez Gauna, Director of Engagement & Outreach, New Mexico Junior College, 575-492-2780, vgauna@nmjc.edu, or Brittney Garcia, Recruiter, 575-492-2794, bgarcia@nmjc.edu.