Eunice Loses Its Biggest Supporter
By Todd Bailey - Hobbs News Sun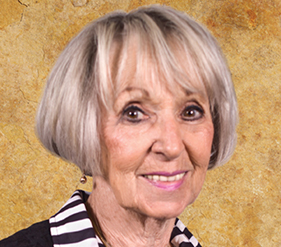 If you needed something done in Eunice, Mary Lou Vinson, who died Saturday, was who you called
Todd Bailey, Hobbs News Sun

Mary Lou Vinson was feisty. She was "a pistol."
While she was a loving wife, caring mother, and supportive grandmother, she was also a Eunice city councilor dedicated to making her community better and an New Mexico Junior College Board member committed to the welfare of the school's students, faculty and staff.
Mary Lou Vinson may have graduated a Lovington Wildcat, but she became a Eunice Cardinal the second her sons, Scotty and Mark, put on a Cardinal uniform.
And that was her loud voice you could hear above everyone else's at any of her grandchildren's sporting events.
Sadly, that voice won't be there anymore. Mary Lou Vinson passed away from a non-COVID-19 illness, during the early hours of Saturday, Dec. 26, 2020, her 84th birthday. For the past couple of years Mary Lou was living in an assisted living facility in Hobbs and her son Mark Vinson said the illness that took his mom came forth pretty fast.
"She was a good mother who was extremely funny," said Mark Vinson. "When we moved to Eunice she wasn't much into the local sports scene. But when we became Eunice Cardinals, she definitely became a Cardinal. She was a pistol, who would always speak her mind when she needed to."
Born in Ducktown, Tenn., on Dec. 26, 1936, Mary Lou was the fourth of five children. They moved to Loving-ton when she was 12 years old. After graduating from Lovington High School in 1955, she worked at a bank before marrying the love of her life, Jimmy Vinson, on Aug. 20, 1957. They had their two sons, Scotty and Mark, before moving to Eunice in 1968. While she followed her sons through their sporting activities, the Vinson family ran the Eunice city pool from 1970-78.
In the last 13 years, she dedicated some of her time to helping others. Mary Lou served on the Eunice City Council from 2010-2019 and on the NMJC board from 2007-2019.
"Mary Lou was the kind of person who wanted to leave the world better than how she inherited it," said NMJC board member Ron Black. "She was on the NMJC board for most of the time that I was on it. She loved NMJC and she loved the kids. She had pretty broad interests when it came to NMJC, but she appreciated the work being done with the nursing program. She always wanted the best for our students, faculty and staff."
NMJC board member Erica Jones, left, and NMJC President Kelvin Sharp, right, stand with Mary Lou VInson, center, during Vinson's going away party on her last day as an NMJC board member in 2019. Jones commented Vinson's helpfulness during their transition on the NMJC board. Vinson passed away on her birthday, Dec. 26.
Black said even though Vinson served in political positions, she wasn't a political person.
"She was very civic-minded," Black said. "She didn't think of just Eunice, but she thought of the whole county. "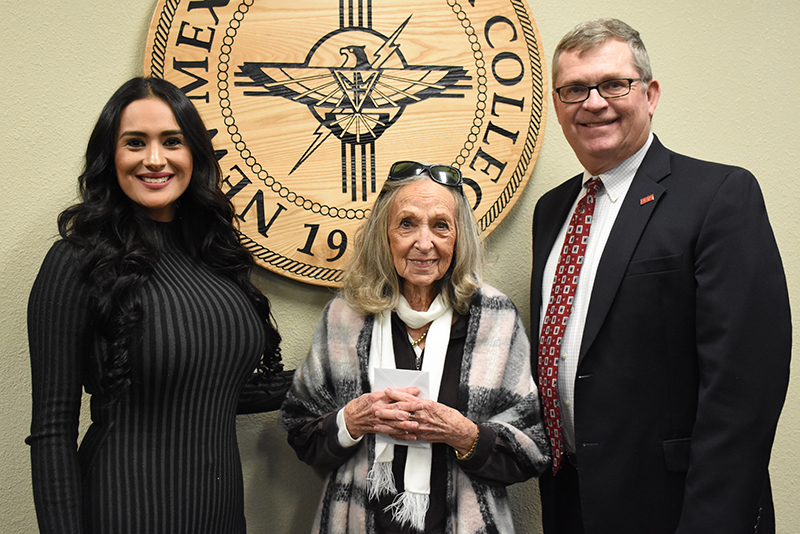 Even during Vinson's last days as an NMJC board member, she gave of herself. Life-long Eunice resident, Eunice elementary teacher and city councilor Erica Jones beat Vinson in the 2019 NMJC board election. Vinson could have made the transition awkward, but it was the exact opposite.
"When the election was over, she was one of the first people to come forth and congratulate me," Jones said. "She never had any negativity toward me and gave me advice about the board position. Everything turned out perfectly."
NMJC president Kelvin Sharp and other board members said it was Vinson who always brought common sense and practicality to the board meetings. Her dedication was always to making NMJC a better school and for making sure the board meetings were adjourned properly.
"I laugh, because even though she retired, she was always the board member that made the motion to adjourn the board meeting and I asked (current NMJC board member) Travis Glenn, as she stepped down if we would ever be able to end a board meeting again?" Sharp laughed. "We don't have Mary Lou to make the motion to adjourn."
Vinson's dedication in an NMJC board room was just as fierce inside the Eunice City Council board room. If she had a question to ask, she'd expect a good enough answer. Eunice mayor Billy Hobbs and former police chief Jimmie Jones, each said Vinson always kept everyone on their toes.
"She was always supportive of me and any plans I had for the police department," Jimmie Jones said. "But you better be able to properly explain why you needed something. She wanted to make sure she knew what something was before she gave her support."
Hobbs said that mentality is what helped make Eunice a better community during Vinson's time on the council.
"My time with Mary Lou on the council was enjoyable," Hobbs said. "She had such a positive attitude, but she also made sure the city was taken care of properly. That the projects the council approved were done right. If she didn't like something, she didn't mind telling you."
But even during those moments of disagreement, that person always felt better about their conversation with Vinson once it was over.
"She would disagree with you about a matter, but after it was over and you walked away, you always felt better by talking to her about it," Jimmie Jones said.
Former Eunice mayor Matt White said Vinson was one of the first Eunice residents hired by URENCO USA when it came to Eunice and that she was one of the first residents who worked to bring the company to Eunice.
"Mary Lou was a good citizen of Eunice, her and her family have been here for a long time," White said. "She was pretty passionate about that aquatics center we built. Her and (current councilor) Terry Bettis were two who were really instrumental in helping do that. She went out and got donations for us. She supported that 100 percent."
Vinson's support of youth was one of the foremost things, whether it be at the junior college level or in bringing extracurricular activities to Eunice in the form of new ballparks and better, updated parks. And then there were her grandkids.
"My grandkids played about the same time as hers did and we got to hear a lot of Mary Lou at the games," White laughed. "She was her grandkids' biggest supporter."
And Eunice's as well.