Coach Mark Potter Speaks on Depression
By Susan Fine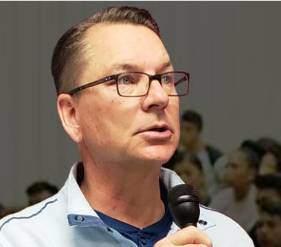 Mark Potter was Basketball Coach of the Year five times in the Wichita, Kansas area. But he began a downward spiral into severe depression that prevented him from coaching his team. Following a plan of treatment and management for these problems, Coach Potter and his wife have dedicated their time to teaching others about this problem, and the best ways to manage the struggles from an educator's and coach's perspectives.
Coach Potter will speak about these issues at New Mexico Junior College, Monday, October 28, at 2:00 p.m. in Watson Hall. He will talk about his battle to overcome anxiety and depression, and encourage others suffering to seek assistance.
His wife, Nanette, will also discuss her role of suddenly being a caretaker of someone with mental illness, a disease she was not equipped to deal with. She tells the family perspective, which is the often forgotten side of mental illness, and how to be aware when a friend or family member may be struggling.
The community is invited, along with NMJC staff and faculty. The Potters will also talk with NMJC students later that evening at 6:30pm.
For more information on Coach Mark Potter, see his website at www.d2up.org.