E Pluribus Unum Photographs Open Thursday August 22
By Mary Lyle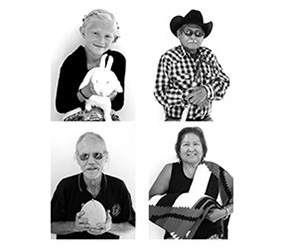 Two photography exhibits, E Pluribus Unum and National Geographic's Greatest Photographs of the American West will be on display August 22 – November 3, 2019 at the Western Heritage Museum and Lea County Cowboy Hall of Fame. The opening reception is at 5:30 pm on Thursday, August 22. Admission is free.
E Pluribus Unum, the brain-child of Santa Fe based artists Jerry Wellman and Matthew Chase-Daniel, focuses attention on people from Southeastern New Mexico. The project began in 2012 and is intended to document communities throughout the state of New Mexico. A mobile portrait studio, housed inside of a custom retrofitted 1970 aluminum step-van, traveled to communities throughout southeastern New Mexico. Citizens from Carlsbad, Lovington, Hobbs, Ruidoso, and Alamogordo were invited to bring "a small personally significant object" and sit for a free portrait. Each participant received a copy of their photograph with the understanding that it would also be displayed on the outside of the van and included in a published book.
"Jerry Wellman and Matthew Chase-Daniel will be signing copies of their book, on sale in the Museum store during the exhibit opening," said Mary Lyle, Director of Education. The publication includes portraits of people from several communities in Southeastern New Mexico. "It is so interesting to see the object that each person chose for their portrait," noted Lyle.
During their month-long travels, Jerry Wellman and Matthew Chase-Daniel created over 900 portraits. The Santa Fe artists admitted that they did not know how they would be greeted in southeastern part of the state where "the politics are more conservative, the churches are more numerous, and the economy is driven by resource extraction and feedlot dairies." But by the end of their journey the two artists realized that, "when the interaction is pared down to a one-on-one, we are all so much more alike than we are different."
Also opening Thursday, August 22nd is National Geographic's Greatest Photographs of the American West, capturing landscapes, people and the culture of the west by some of the best-known photographers of the past century.
For more information about the exhibits call the Museum at 575-492-2678.