Dia de los Muertos Family Fun Day
By Susan Fine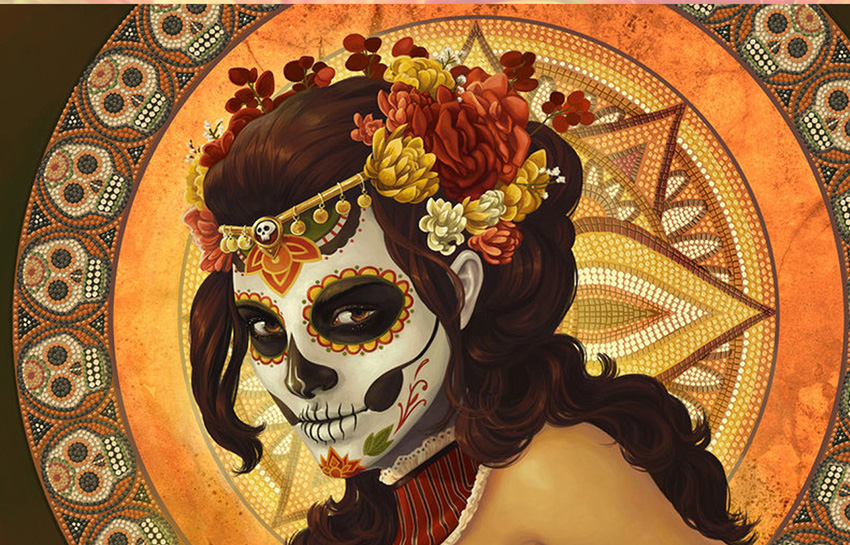 The Western Heritage Museum and Lea County Cowboy Hall of Fame will be presenting a Family Fun Day of events, Saturday, October 27, from 10 a.m. – 3 p.m. featuring the culture of Dia de los Muertos, with free activities for all visitors.
Dia de los Muertos, or Day of the Dead, is a celebration in several Hispanic countries, especially Mexico and Central America, to honor the ancestors of family members.
"Dia de los Muertos is a holiday filled with customs to honor family members who have died," says Mary Lyle, Director of Education for the museum. "It is a day to celebrate, remember and prepare foods and gifts for the departed. The activities we have planned will teach children and adults about this special celebration, and while we mourn those who have died, we also rejoice in their life with happiness and praise."
Dia de los Muertos will be hosted a few days early, Saturday, October 27, to educate the public about this tradition and give them ideas for their own celebration. Musician, singer, educator, Sagit Zilberman, will give a special presentation entitled "Songs for Peace" at 11 am and 1 pm. "The cultural tradition of Dia de los Muertos is intended to insure that those who are being honored have eternal peace in the next life," noted Mary Lyle. Sagit's presentation is in keeping with this tradition.
To celebrate Dia de los Muertos, the museum will have a Community "Ofrenda" - a table for families to bring photos of their deceased loved ones and offerings. Other traditional activities taking place include papel picado (cut paper banner), flores de papel (paper flowers), calaveras (sugar skull decorating), face painting, and pan de muerto (traditional sweet bread). At 12:30 p.m., children can try to break a piñata filled with candy. The family film "Coco" will be shown at 2:00 p.m.
Visitors are encouraged to wear traditional costumes and to bring a photo of a deceased loved one to place on the Community Ofrenda.
"This is our fourth annual Dia de los Muertos celebration," says Dr. Darrell Beauchamp, Executive Director of the museum. "Each of the past couple of years we've had tremendous response from people wanting to participate, so we encourage everyone to arrive early."
For information: Mary Lyle, Director of Education: 575-492-2678 or mlyle@nmjc.edu
______________________________________
About Dia de los Muertos
The Day of the Day is a unique festival that is a combination of 16th Century European rituals and the Aztec festival on celebrating the dead. When the Spaniards arrived in present-day Mexico in the 16th century, they brought the Roman Catholic holiday of All Soul's Day with them. Spanish priests quickly saw the correlation between the Aztec and Christian celebrations. Though the Aztecs celebrated their festival at the beginning of summer, the priests combined the rituals and moved it to All Souls Day. The cultural blending of these festivals has resulted in an event with Christian components that still maintains its indigenous Native American customs.
Today Dia de los Muertos is typically celebrated over three days: All Hallows Day October 31, All Saints Day November 1, and All Souls Day November 2.
During the festival, stories are exchanged about the deceased while families visit their gravesites. Picnics are sometimes held at the cemetery as a way to celebrate a loved one and the joy they brought. Families also set up home altars decorated with flowers, and eat sweets like sugar skulls or pan de muerto, sweet bread.