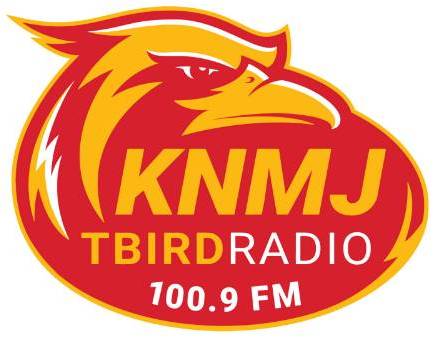 KNMJ - TBird Radio - plays songs from the 70s, 80s, 90s and 2000s. We are a non-commercial radio station, run by New Mexico Junior College.
Along with music, you can hear play-by-play home basketball, volleyball, and baseball games, plus see the games live at livestream.com/nmjc.
We also feature special programs including:
Lea County Chamber Chatter - a weekly show hosted by the Chambers of Commerce in Lea County, highlighting business leaders of Southeastern New Mexico. The first week of every month is hosted by Lovington Chamber of Commerce, the second by Hobbs Chamber of Commerce, and the third week is presented by the Hobbs Hispano Chamber of Commerce. Tune in each week as the Chambers of Lea County highlight the events and successes in our community: Wednesdays at 12:00 noon, Fridays at 5 pm, and Mondays at 7 am. Or listen anytime: https://lea-county-chamber-chatter.simplecast.com/
Música y Libros - hosted by Teresa Dovalpage, NMJC Spanish professor, this bilingual show is recorded in both English and Spanish to highlight both beautiful languages. Música y Libros can be heard at knmj.simplecast.fm and also on KNMJ 100.9 FM three times a week: Wednesdays at 7:30 AM, Thursdays at 5:00 PM, and Saturdays at 12:00 PM.
Get updated information on Facebook: www.facebook.com/TBirdRadio/
If you miss the shows on 100.9FM, you can hear them 24/7 at: knmj.simplecast.fm/
Contact: 575-492-2733 or tbirdradio@nmjc.edu