Student Government Association
Mari McCoy
 Coordinator of Student Activities
 & Intramurals
 Ben Alexander Building-Game Room
 575.492.2580


mmccoy@nmjc.edu
---
GET INVOLVED & MAKE CHANGE
There are four scheduled meetings
each semester:
Every 1st Wednesday of the month at 12pm in the Ben Alexander Center Rm. 153.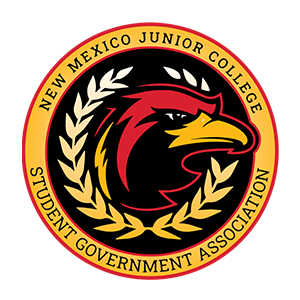 Student Government Association

Student Government is a club comprised of New Mexico Junior College students who work together to plan, coordinate, promote and finance a varied of program of activities and services for the entire student body throughout the school year. If you are interested in providing a voice for the students at NMJC through SGA you can pick up a student government application located at Ben Alexander Student Center or apply online. Student Government also provides elections for President, Vice President, Treasure, and Secretary which will be elected each year. (Constitution By-Laws)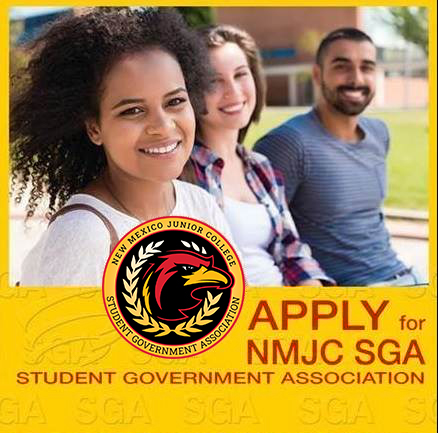 Description of duties:
President ($500 Scholarship)
Preside over all SGA meetings. Appoint temporary officers to fill vacancies until such time that an election can be held. Have the power to vote only in the case of a tie. Appoint the chairperson of the standing or ad hoc committees. Appoint a Parliamentarian with consent of two-thirds vote of the SGA voting members. Serve on various College committees when asked.
Vice-President ($400 Scholarship)
Perform the duties of the President in his/her absence. Vote as a regular member unless presiding, in which case he/she shall vote only in the case of a tie. In the event of the President's resignation, death, or removal from office, the Vice President shall be graduated automatically to the office of the President for a period not to exceed the elected President's unexpired term. Serve as an ex-officio member on all standing or ad hoc committees.
Treasurer ($400 Scholarship)
Keep an account of receipts, disbursements, and the balance of the SGA treasury, and at each regular meeting shall give a report thereof. Keep accurate financial records for the SGA meetings.
Recorder ($400 Scholarship)
File and post minutes of each SGA meeting. Handle all official correspondence. Keep a roll of all members of the SGA members, checking the roll at each meeting and recording in the minutes of each meeting the names of all members present and/or absent.
Social Events Planner ($400 Scholarship)
With the help of SGA Officers, coordinate the planning and execution of all social, cultural, and special events sanctioned by the SGA/NMJC. Have records available for review detailing all current and future events. Be responsible for publicizing SGA/NMJC sanctioned events. Be resposonsible for the collection of Event Checklist and up-keep of all SGA?NMJC histoorical materials. Assist other members as needed.
Club Representatives ($200 Scholarship)
Represents their club in SGA and promotes the interests of their club. Is a voting member of SGA. May serve on ad hoc committees.
Other Duties of Student Government Members
Attend all meetings and activities as schedule (More than three unexcused absences warrants dismissal from your SGA position)
Plan and participate in the following activities:
Welcome Back events , Homecoming Week, Fall Festival, Alcohol Awareness, community service, halftime games, cultural events, etc.