Pi Day Cancelled
By Susan Fine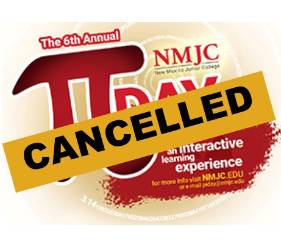 Dr. Kelvin Sharp, president of New Mexico Junior College said, "This morning Governor Lujan-Grisham declared a State of Emergency in response to the outbreak of the coronavirus in New Mexico. As part of her declaration, she is cancelling all large-scale state events, and has asked private organizations to do the same." Sharp continued, "The Pi Day event is a great activity for students and parents in Lea County but we believe that now is not the time to hold an activity that will bring over 5,000 people into the Lea County Event Center."
Pi Day is an annual event hosted by NMJC to introduce young students and their families to mathematics- related activities and games. This popular event has grown in size over the past six years, and has become one of the premier events for youngsters in the area.
"I regret this decision but we must be extremely cautious for our students, their families, and our college staff," Sharp said.
NMJC will continue to hold classes, and will make every effort to complete the current academic year. However, Dr. Sharp has stated that the administration will be monitoring the situation daily, and will be prepared to scale back additional activities if necessary.