Historic Eclipse Windmill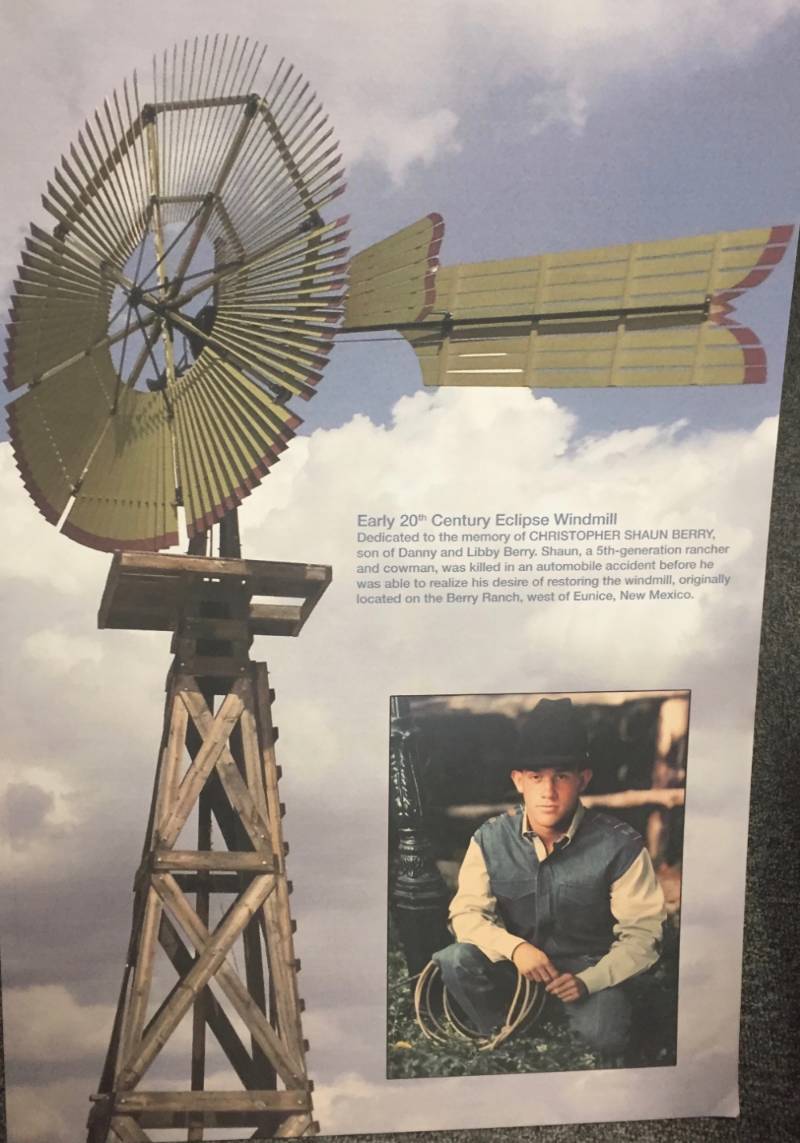 An historic Eclipse windmill was erected in front of the Western Heritage Museum as a memorial to Shaun Berry. In 2017, the blades of the windmill were moved inside to better preserve it from the weather. The tower was fitted with a replica windmill that will better stand up against the Lea County winds.
Christopher Shaun Berry, son of Danny & Libby Berry, was born October 14, 1978 in Hobbs, NM and was raised on the family ranch west of Eunice, NM.
While in Eunice High School, Shaun participated in basketball and track. He was a member of the state championship track team, running the anchor legs of the relays and the 400- meter sprint. He won the Track Leadership Award and the Sprinter Award in 1996 and in 1998. Shaun graduated from Eunice High School in 1998 and attended Sul Ross State University in Alpine, Texas on the C.F. McAuliffe rodeo scholarship.
As a youngster, Shaun participated in the Lea County Junior Rodeo Association playdays. He particularly enjoyed team roping and competed in this event in the High Plains Junior Rodeo Association, National High School Rodeo Association, and the National Intercollegiate Rodeo Association. He was also a member of the U.S. Team Roping Association.
The cowboy way of life came naturally to Shaun and in the winter of 2003, he decided to leave Sul Ross and come back to the ranch to go into business with his family. With his easygoing personality and ease at pulling practical jokes, he made many good friends and especially enjoyed the times he spent working cattle with neighbors and his family. He had a special way with horses and cattle and refined his skills at mechanics and carpentry.
The ranching heritage and western way of life ran deep in Shaun's roots. He was a fifth generation rancher and cowman ~ a unique cowboy, having patience with horses and people as well as appreciating the history of this area. After discovering an old Eclipse windmill on the ranch, he made plans for its reconstruction, but was never able to carry out the project.
On May 8, 2003, while attending the college graduation of his friends in Alpine, Texas, Shaun was killed in a vehicle accident, coming home to pursue his dreams.